Rod ends DIN ISO 12240-4 (DIN 648) K series maintenance-free version stainless steel female thread
suitable for high dynamic pressure loads and tensile forces
Please first choose whether you are a private or corporate customer!
We have unfortunately had to adapt the price of this item due to cost increases in our supply chain. We would be happy to work with you to find a solution to minimise the impact of this increase. Please get in touch with your contact person to discuss this:

The quantity currently authorised for the shop has been exceeded. However, we would be delighted to receive a request from you!
Unfortunately, there is a minimum order volume of [[minsurface]] units due to the coating used. Alternatively, you can receive the products uncoated (bright, lightly oiled) or in stainless steel (1.4305, 1.4301 or 1.4404) even as a one-off part:
The product was successfully added to your shopping cart
Price per piece
[[ formatedPrice ]]
On request
from [[ price.from ]] pieces only [[ price.price ]]
Optional
Delivery time
[[ computedDelivery(deliveryData?.deliveryTimeDays) ]]
On request
still [[ stock ]] pieces in stock

Fast-track this part (max. 400 units) through our production facility. Shorten the delivery time by 1-2 working days. We are currently exclusively testing this delivery service for Germany.
Accessories for
[[ title ]]
Price per piece

[[ formatTaxPrice(aprice[article.number]) ]]

On request
|
Selection for data retrieval
On request
[[ adelivery[article.number] ]]
Total price
[[ formatedSumprice ]]
On request
incl. VAT
plus shipping costs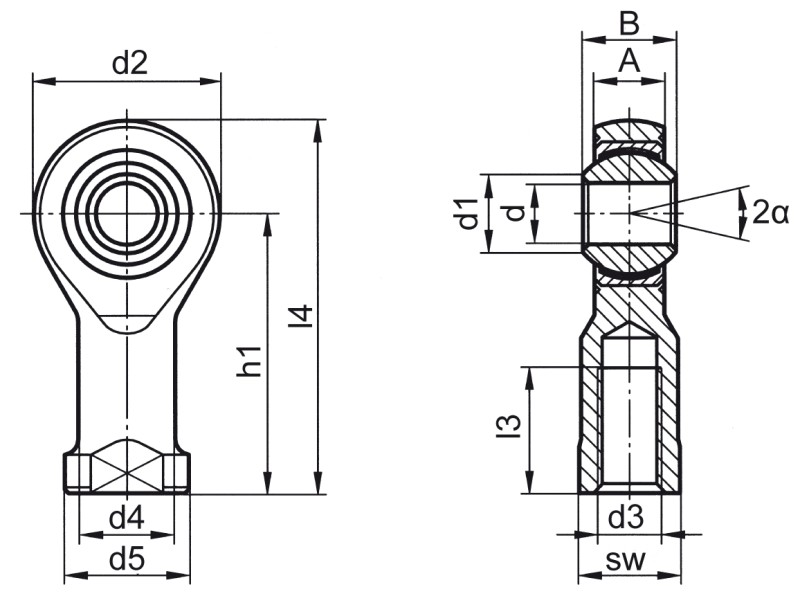 To find the article you want, you can select any number of filter criteria or search texts or combinations of the two at the top of the table.
To cancel your filter settings again, click on the "Clear" button below the table.
You can display product details, including the eShop function and 3D model , by clicking in the row corresponding to the required article.
Product information "Rod ends DIN ISO 12240-4 (DIN 648) K series maintenance-free version stainless steel female thread "
Rod end K series maintenance-free version stainless steel female thread

Rod ends are used when static or dynamic forces must be transmitted during tilting, turning or swivelling movements. These machine elements, usually manufactured according to DIN ISO 12240-4 / DIN 648, are particularly suitable for applications with low sliding speeds.
Both the K series and the slimmer E series are available with female thread or male thread. These rod ends are available in maintenance-free or regreasable (maintenance required) versions.
The structure of a rod end is divided into three components – the internal ring, the bearing shell and the housing – all perfectly matched to one other. Thanks to a cleverly selected material mix of the three individual components, the linking elements can be used for higher speeds and tensile, compressive, axial, high pressure and high dynamic loads – and they are available in both steel and stainless-steel versions.
In the maintenance-free versions, high-performance slip films (e.g. made of PTFE) bonded to the inside of the bearing shell act as a sliding surface, ensuring continuous and efficient use of the rod end.
Thanks to their wide variety of versions and broad range of properties, the standardised rod ends can be found in almost all industrial applications.
Modular system enables low-cost components and short replacement times
Even when the desired part has been configured according to the requirements, price and availability are still decisive supplier selection factors for prospective customers.
Thanks to the clever modular system, small series and short timeframes can also be achieved. Here the user especially benefits from the high quantities of the respective individual components – so the rod end can be produced cost-effectively and is available within a much shorter timeframe. Customer-specific special solutions can also be realised much faster.
The rod ends can be optionally equipped with a threaded bolt or with sealing and the pivoting bearings (in accordance with DIN 12240-1) can of course be ordered separately. For the hydraulics sector, we have rod ends hydraulic (DIN 24338 / ISO 6982 or DIN 2455 / ISO 8133), which are used on e.g. hydraulic cylinders and are designed for particularly high forces.